Yay! I survived the hellish cold that took over our household since I last surfaced here in the blogoshpere. We survived 11 housebound days, and rewarded ourselves by traveling to Portland to attend the opening night of
Sunset Boulevard at Portland Center Stage
. The poster for Sunset Boulevard kicked off my summer of
theater poster madness
- 4 posters in about three months, on about 10 hours of working time/week. It was a lot of work to cram in, but it all worked out. It was awesome to see the poster image in all of its iterations - from banners on the street to the program, and hanging in the beautiful lobby (above).
I thought I'd give you a peek into my process for making this poster. This one was tough, I'm not going to lie. There were so many revisions of this thing at times I thought I was going nutters, much like the musical's main character
Norma Desmond
:
So, first things first - reading the script. I love this part of the job. This time while I read I listened to the Broadway soundtrack as well, which really helped set the tone. After that I made an inspiration board - in this case a digital collage of images that portrayed the tone I wanted my image to have, along with some images I needed for reference (sunglasses, palm trees, etc).
Then it was time to bust out the pencils.
I've never been capable of producing tight, perfect thumbnails. Many of my ideas start out as really rough and random sketches - just trying to get an idea out of my head and on paper. Then I refine the super rough sketches into larger drawings. My first concept was to show Norma's ego overwhelming the reality of her faded fame. I illustrated this by using Norma's Isotta-Fraschini buried by the script she has written to stage her 'return' to film.
My art director, the fabulous
Michael Buchino
thought it was also important to show a version of Norma, to show her face. So we decided to do a massive script with Norma looming above it. For this I did a lot of facial sketches, in pencil and later with sumi ink to loosen things up a bit.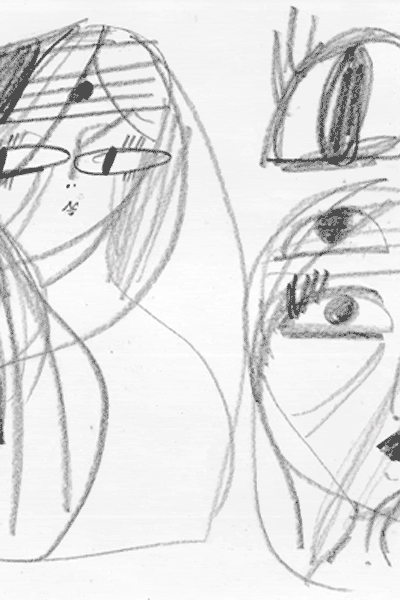 After that round, the car and script idea were nixed and we decided to just focus on her face, and that famous line that comes at the end of the story "...All right, Mr. DeMille, I'm ready for my close-up". So, more pencil sketches until I found a composition that worked.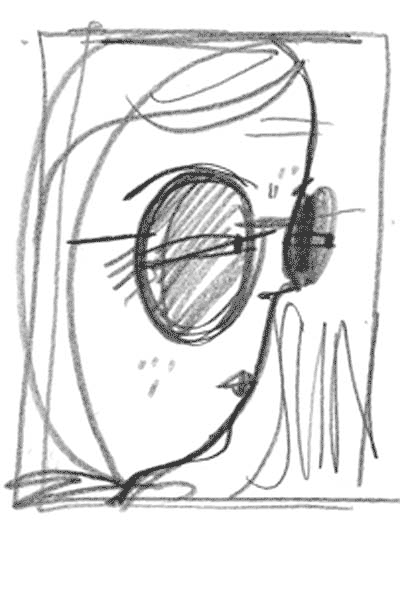 Then it was time to take it to the computer. First I started laying out the basic shapes in Adobe Illustrator. Her large, round sunglasses set off by a smaller mouth to make her look larger than life and very much "in your face". This image was reworked and tweaked, and texture was layered in until everyone was happy with the outcome. The sunglasses changed shape to be more cat-eye like, and then we played with the placement of the title. Then we were done.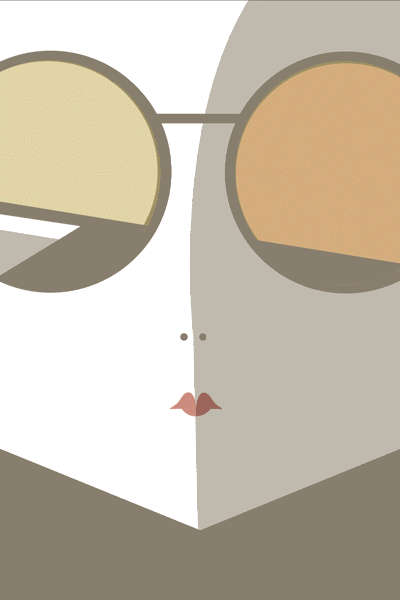 Or so we thought. A week or so after I turned over the final files, a phone call came - sadly, and quite suddenly the poster was rejected in its final form. I'd never had this happen to me before - finishing a project and then having to re-do it after I thought it was done. Lucky for me again, the people at PCS were awesome and talked me through my shock. They honored my 'kill fee' and we went back to the drawing board. They needed to poster to feel more glamorous while still conveying the danger and madness in the story.

Since we talked through the new concept, and reused a few parts from the original I didn't have to do many thumbnails, just one or two. Then, back to the computer until we finally came to this:
And then we were really done. So, there you have it. The process behind the Sunset Boulevard poster! It was a super fun job - even with the revisions. It was a great learning experience for me too. At the same time, I was super happy to see this thing printed and living its own life, and I was very ready to celebrate it with a nice drink on opening night.