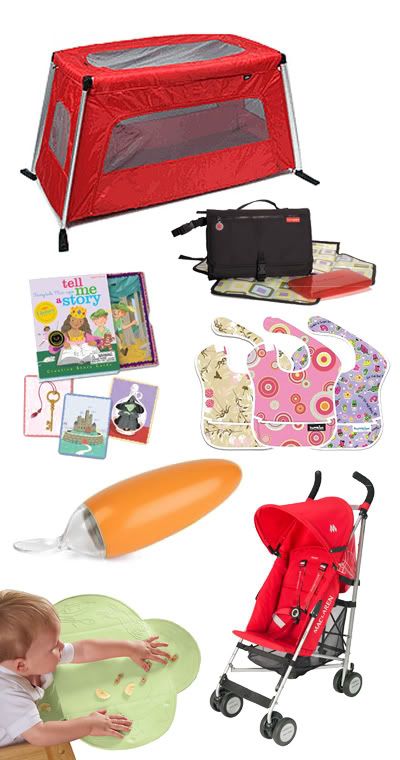 Traveling with a little one in tow last week made me really appreciate some of the travel gear we've amassed in the past two years. These are some of our favorite - and now, essential - travel items. If you are about to add a little one to your family or know someone who is - I'd highly recommend any of these for more enjoyable travels.
1. The
Phil & Teds Traveller
bed. I can't say enough about this thing. It fits in our suitcase, and our kid sleeps like a dream in it. It was a bit of an investment, but we've totally gotten our money's worth on this one. Getting a full night's sleep on vacation? Priceless. 2.
The Skip Hop Pronto
pretty much does everything but change the baby. I loved this thing. 3.
Tell Me a Story
cards. Forget having to lug around a huge stack of books, with these cards there are endless possibilities. 4.
Bumkins bibs
these are awesome - just wash them off in the sink and air dry (the dry very quickly) 5.
Boon Squirt
spoon this spoon was not only a great conversation piece when our kiddo was little, it was also super handy. I could feed her and myself at the same time. Nothing short of a miracle, folks. 6.
Kiddopotamus Tiny Diner
this mat is great to have rolled up in your purse or diaper bag - we used ours on a less than sanitary picnic table recently. 7.
Maclaren Triumph Stroller
another item I can't imagine living or traveling without. This thing is a workhorse! Sine they are so well made, many people resell theirs on Craigslist or the like. Since I knew ours would be thrown on planes I snagged a used one for $75, and love it. A a tall person, it is tough to find a stroller that is comfy it push but this one is great.